"There are some secrets in the big band business that only the pros know about. For one, avoid getting yourself into a "Jeff and Mutt" situation. As a leader, try to use only musicians who height is about the same as yours. You might laugh, but believe me, this is an important one. Lawrence Welk always had tall men in the band, except for one short guy in the trumpet section who sometimes did comedy. It always goes over better, and a band needs every break it can get. Sometimes the little things mean a lot – this is just one of those things."
—Phil Bernie, Big Band Expert
ORANGE THEN BLUE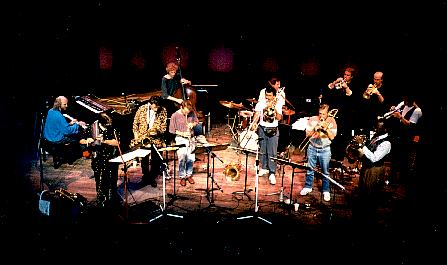 Photo by Kathy Halvorson
"Orange Then Blue trafficks in wild avalanches of sound with a rare combination of wit and ferocity."
--Burlington Free Press

[Also see Orange Then Light Blue]
Not only do they surprise you with original treatments of compositions by noted masters from Duke Ellington to Bill Evans to Albert Ayler; Orange Then Blue draws upon a host of non-jazz sources as well -- Balkan marches, Irish reels and Bolivian folk music, for example. Orange Then Blue, a 12-piece ensemble formed in 1984, is certainly one of the most intriguing and most prolific of big bands to come out of the Boston/New York scene in recent years. Performances at top venues in New York, Chicago, Cleveland and Boston as well as world reknowned jazz festivals (Berlin Jazz Festival, Music Meeting in Nijmegen, Holland, Texaco/NY Jazz Festival, Boston Globe Jazz Festival, Discover Jazz Festival and Canadian Jazz Fesitvals in Montreal, Ottawa, Vancouver, Toronto, Edmonton and Calgary) along with tours of Turkey, Cyprus and Syria have summoned enthusiastic responses from audiences and critics alike.
On the heels of its successful 1987 debut CD, Music for Jazz Orchestra, the band has since then released five other CD's: Jumpin' in the Future (released in March '89), with renowned composer Gunther Schuller conducting his own jazz compositions and arrangements, featuring Howard Johnson on tuba and bass clarinet; Where Were You? (July '89), which includes live material highlighted by performances from special guest saxophonist George Adams; Funkallero (Oct.'91), which has been described as "flawless and often hilarious...highly recommended...a snapshot in the continuing evolution of a first-rate ensemble;" While You Were Out.... (April '94) released as a two-CD set featuring compositions by Dave Douglas, George Schuller, Chris Speed and Matt Darriau. With this release, Boston Globe critic Bob Blumenthal has confirmed Orange Then Blue's "status as one of the most ambitious & talented bands anywhere." The latest CD release is entitled Hold The Elevator: Live in Europe and Other Haunts (Mar '99), containing live performances from festivals in Berlin and Nijmegen and venues in New York. All six albums are available on GM Recordings. Orange Then Blue has also recorded with vocalist Mili Bermejo on Casa Corazon (Xenophile).
In addition to performing on their own, Orange Then Blue has collaborated with a wide variety of groups such as Night Ark (Armenian), Fortaleza (South American), Marimolin (Contemporary Classical), and with vocalists Dominique Eade, Olga Roman and Bermejo. Some of the notable musicians who have graced many of OTB's recordings include Tim Hagans, George Garzone, Dave Douglas, Tom Varner, Chris Speed, Bruce Barth, Matt Darriau, Rick Stepton, Mark Taylor, Tim Ray, Andy Laster, Dave Ballou, Gary Valente, Jamie Saft, Andrew D'Angelo, Cuong Vu, Adam Kolker and Stan Strickland.