Orange Then Blue: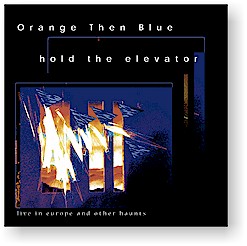 Hold The Elevator:
Live in Europe and Other Haunts
GM Recordings 3040
Recorded live in Germany, Holland and New York.
In the big band tradition of Charles Mingus and Duke Ellington, Orange Then Blue has been a proving ground for much great talent — Dave Douglas, Matt Darriau, Chris Speed, Cuong Vu, Mark Taylor, Reid Anderson, Andy Laster, Dave Ballou, and others.
Included in this exciting live release — their sixth on GM Recordings — are five originals, new arrangements of tunes by Billy Strayhorn, Hermeto Pascoal and Tim Berne, and a sizzling Balkan march.
[Visit GM Recordings web site.]


[To purchase Hold The Elevator, please visit iTunes.]
"The enormous appeals of the avant garde big band Orange Then Blue is drawn mainly from their wide musical spectrum, which successfully incorporates worldly influences like Balkan, Afro-Hispanic, and klezmer music without sacrificing jazzŐs sense of swing and improvisation." --- John Murph, JazzTimes
"While Sue Mingus continues her late husband's legacy by funding the Mingus Big Band, this group stays more true to the bassist/composer's ultracomplex personality as a writer/arranger. Such pure pursuance of his iconoclastic style is no small accomplishment, that's for sure "---- Dave McElfresh, JazzNow
"[OTB] excavates uninhibitedly in the quarries of jazz history, freely appropriating themes, sounds and styles, dismembering them and unashamedly splicing them all together in daring new combinations ... provocative, ebullient music!"
— Berlin Jazz Festival, recording site for "Smada" and "Stentor"
PERFORMERS
Chris Speed,
tenor saxophone, clarinet
Andrew D'Angelo,
alto saxophone, bass clarinet
Andy Laster,
alto saxophone, baritone saxophone, flute
Peck Allmond,
soprano saxophone, trumpet, E-flat alto horn

Cuong Vu, Dave Ballou,

trumpet
Tom Varner,
French horn
Jim Leff,
trombone
Jose Davila,
tuba
Jamie Saft,
piano, accordian
Reid Anderson,
bass
George Schuller,
drums, percussion, tiny bells
with
Matt Darriau,
alto saxophone, soprano saxophone, clarinet, flute (#3, 4, 6)
Seido Salisfoski,
dumbek, percussion (#1, 3)
Marcus Rojas,
tuba (#4, 6)
Tim Ray,
piano (#4, 6)
Ben Street,
bass (#4, 6)
PROGRAM
1.
"Alino Oro" (Balkan Traditional)
4:27
2.
"Smada" (Strayhorn, Ellington, arr Ballou)
8:35
3.
"Rufus 7" (Cappadocia, Darriau, arr Darriau)
11:45
4.
"Peregrinations" (Darriau)
7:04
5.
"RE.Scatter" (Speed)
8:03
6.
"Nem Um Talvez" (Pascoal, orch Darriau)
4:55
7.
"Bloodcount" (Berne, arr D'Angelo)
14:30
8.
"Stentor" (Laster)
6:10
9.
"Sich Reped" (D'Angelo)
7:32
Recorded on (#4, 6) 1 April 1994 at the Fez under the Time Cafe in New York; (#2, 8) 3 November 1995 at JazzFest Berlin '95 in Berlin, Germany; (#1, 3, 5, 9) 5 November 1995 at The 11th Music Meeting in Nijmegen, Netherlands; and (#7) 8 November 1995 at the Knitting Factory in New York.
Producer: George Schuller
Executive Producer: Gunther Schuller