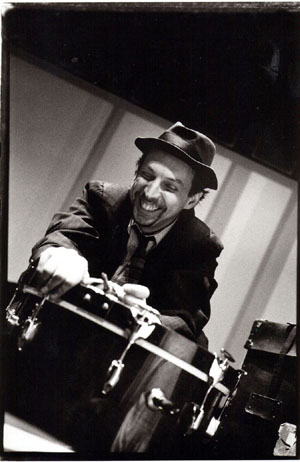 Photo by Valeria Trucchia
GEORGE SCHULLER (drums, composer, arranger, producer), a native of New York City, moved to Boston in 1967 where he was raised and educated, and later received a bachelor's degree in Jazz Performance at the New England Conservatory of Music in 1982. For the next twelve years, Schuller was a fixture on the Boston area jazz scene performing with Herb Pomeroy, Jaki Byard, Jerry Bergonzi, George Garzone, Mick Goodrick, John Lockwood, Ran Blake, Lisa Thorson, Billy Pierce, Bruce Gertz, Mili Bermejo, John LaPorta, Dominique Eade and Hal Crook.
In 1984, he co-founded the twelve-piece ensemble Orange Then Blue recording several acclaimed albums, including the 1999 release: Hold The Elevator: Live in Europe and Other Haunts on GM Recordings. Orange Then Blue toured extensively throughout the US, Canada, Middle East and Europe during the 90s.
Over the last two decades, Schuller has also released several albums as a leader including his first CD entitled Lookin Up From Down Below (GM), and two releases with the Schulldogs, Tenor Tantrums (New World) and Hellbent (Playscape). Schuller has also released three recordings with Circle Wide including Round'bout Now (Playscape) featuring Ingrid Jensen and Tom Beckham, Like Before, Somewhat After (Playscape) featuring Donny McCaslin and Dave Ambrosio, and more recently Listen Both Ways (Playscape) featuring Peter Apfelbaum and Brad Shepik. Schuller has also recently embarked on a series of piano trio recordings with Trio This That (GM) with Barney McAll, and George Schuller Trio Life's Little Dramas (Fresh Sound/New Talent) featuring Dan Tepfer and Jeremy Stratton.
Since 2004, Schuller has also released several different and wide-ranging recordings showcasing his diverse interests in many styles of improvisatory approaches including JigSaw (482 Music) featuring an all-star cast of New York improvisers (Tony Malaby, Mark Feldman, Dave Ballou), and the collective bands of Conference Call (482, Cleanfeed, Nottwo) and Free Range Rat (Cleanfeed).
In 1995 Schuller appeared on Joe Lovano's critically acclaimed album Rush Hour (Blue Note) with compositions and arrangements by Gunther Schuller. It was voted "Album of the Year" by Down Beat magazine. In addition, Schuller has performed and/or recorded with many of today's leading musicians including Lee Konitz, Mose Allison, Dee Dee Bridgewater, Nnenna Freelon, Ran Blake, Fred Hersch, Jerry Bergonzi, Armen Donelian, Cameron Brown, Burton Greene, Tom Varner, George Garzone, Mark Helias, Dave Douglas, Herb Robertson, Drew Gress, Peter Yarrow, Jimmy Greene, Liberty Ellman, J Geils, Kris Davis, Russ Johnson, Myra Melford, Roy Nathanson and The Smithsonian Jazz Masterworks Orchestra.
Schuller has found himself on the other side of the glass producing several albums by Orange Then Blue, Luciana Souza, Ed Schuller, Joel Harrison, Jazz Composers Alliance, Ballin' The Jack, Mili Bermejo, Free Range Rat, Michael Musillami and Lisa Thorson. His compositions and arrangements have been recorded by Ran Blake, Burton Greene, Conference Call, Orange Then Blue, Ed Schuller, Carlo Morena, Mike Metheny, Ballin' The Jack, Your Neighborhood Sax Quartet, Trio This, Wilder/Woodman/LaPorta Sextet, Mili Bermejo and Lisa Thorson.
Major appearances with various bands have included US festivals in Chicago, Detroit, Boston, New York, Philadelphia, Rochester, Ravinia, Sedonna, Discover, Edgefest, Michigan, Sandpoint, and Lake George along with Canadian festivals in Montreal, Vancouver, Toronto, Guelph, Edmonton, Calgary, Ottawa, Rimouski and Saskatoon as well as European festivals such as Berlin, JazzOpen Stuttgart, Bolzano, Vittoria, Braga, Guimar"es, San Sebastian, Bergen, Northsea, Ost-West, Zagreb, Bucharest, Karava, Stavinger, Langnau Jazz Nights, AMR in Geneva, Red Sea, and many others. He has received several composition awards including a Massachusetts Artist Foundation Fellowship for Music Composition (1987), NEA Composition Grant (1995) as well as The Julius Hemphill Composition Award (2000).
Schuller presently resides in Brooklyn (since 1994) where he freelances in the New York City area performing with, among others, Michael Musillami, Armen Donelian, Ray Parker, Katie Bull, Jason Robinson and Yard Byard (Music of Jaki Byard) in addition to leading his own groups Circle Wide and George Schuller Trio.