george schuller's circle wide:
listen both ways
playscape recordings PSR#053112
[Back to Circle Wide home page]
| | |
| --- | --- |
| 1) could this be the year? | 11:32 |
| 2) store without a name | 10:48 |
| 3) better than prozac | 9:29 |
| 4) edwin - margo guryan | 6:33 |
| 5) jesus maria - carla bley | 8:32 |
| 6) a map would help | 10:48 |
| 7) newtoon | 7:02 |
| 8) bed head | 5:16 |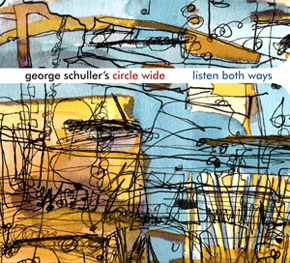 [To purchase Listen Both Ways and other CD's by George Schuller, please visit Playscape Recordings. ]
peter apfelbaum,
tenor sax & melodica;
brad shepik,
guitar;
tom beckham,
vibes;
dave ambrosio,
bass;
george schuller,
drums and bells.
recorded at bennett studios, englewood, nj may 13, 2010 and tedesco studios, paramus, nj may 31, 2012
all compositions by george schuller except where noted.
Listen Both Ways is the third studio recording by veteran drummer/
composer George Schuller's longstanding quintet, Circle Wide. It follows the band's two previous Playscape Recordings releases, 2003's Round 'Bout Now and 2008's Like Before, Somewhat After, and is the first to concentrate on the leader's own music.
"Circle Wide's first two releases were tributes inspired by the music of Miles Davis and Keith Jarrett," Schuller explains in the liner notes. "This time, I've decided to let my hair down and contribute most of the compositions to further explore the broad range and colors of the individuals in my group."
Six of the eight tracks are original pieces while the other two are Carla Bley's "Jesus Maria," first recorded by the Jimmy Giuffre 3, and a piece by composer/lyricist Margo Guryan called "Edwin," which was composed in 1960 at The School of Jazz in Lenox and dedicated to George's older brother at the time.
SOME RECENT REVIEWS:
Expertly integrating freewheeling interplay with sophisticated charts, Listen Both Ways is the group's most definitive statement, and Schuller's most engaging session as a leader to date.
— Troy Collins/AllAboutJazz
One of the mantras that you hear among critics, especially the U.S., is that George Schuller is one of the most underrated musicians. Yes, the case [of this new recording] will begin to take that claim seriously. Listen Both Ways is high-caliber, well structured, and conveys a sense of freshness and harmony in both runs longer than in the most concise and in those hotter than in the more "relaxed". Beautiful music, free, but firmly anchored in the tradition of jazz. (Rough google translation)
— Luca Casrotti/AllAboutJazz Italia